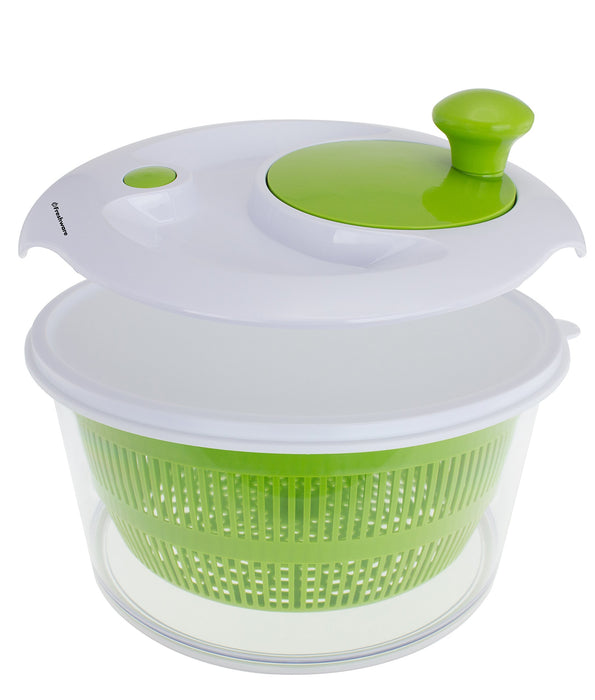 Freshware Salad Spinner with Storage Lid
Wash, spin and dry your salads in seconds. 4-piece set includes: the clear bowl, spinner basket, spinner lid and storage lid
The salad spinner spins your food dry in a matter of seconds, which features an easy to turn one-handed knob with quick stop button
Removable basket can be used as a colander. Elegant, non-slip clear bowl can be used for serving salad. A flat, stackable lid is included for storage
BPA, PVC and Phthalate FREE. Top Rack Dishwasher Safe. Hand wash recommended
Size: 10 inch diameter x 6.5 inch height. Clear bowl capacity: 5 quarts. Spinner basket capacity: 4.5 quarts
Style Name:4-in-1 Crispy and fresh clean salads are a cinch with the Freshware
KT-503 Salad Spinner with Storage Lid. Constructed with BPA, PVC and Phthalate
FREE material. Our inventive Salad Spinner is a must have for everyones
kitchen due to its versatility and ease of use. Simply rinse your greens,
fruits or vegetables in the removable colander, spin it with the easy to turn
one-handed knob, pause the spinning with the quick stop button, drain, and
finish preparing the salad right in the BPA-Free bowl. This salad spinner
makes it effortless to bring fresh healthy salads to your table with its
stylish design featuring an elegant, non-slip clear bowl that doubles as a
food-safe serving dish. A flat, stackable storage lid is included to keep
vegetables fresh in the refrigerator. Hand washing recommended for extending
the life of the product but it is top rack dishwasher safe. This spinner is a
versatile addition to your professional kitchen collection. Size: 10 inch
diameter x 6.5 inch height. Clear bowl capacity: 5 quarts or 4.7 liters.
Spinner basket capacity: 4.5 quarts or 4.3 liters.