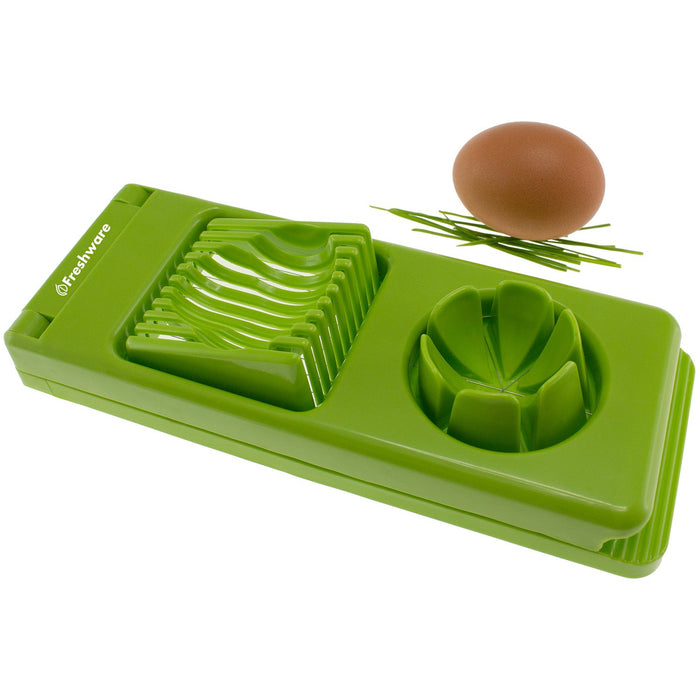 Freshware Egg Slicer and Wedger
Slice and wedge in one easy motion. Stainless-steel wire blades for quick cutting results
Great for eggs, mushrooms, kiwis, strawberries and more
Cuts boiled eggs to round, oval or wedge shapes. Up to 11 slices or 6 wedges
BPA, PVC and Phthalate FREE. Top Rack Dishwasher Safe. Hand wash recommended
Size: 8.3 x 3.2 x 1.8 inch
Quickly slice or wedge eggs, mushrooms, kiwis and strawberries with the
Freshware KT-421 Egg Slicer and Wedger. Constructed with BPA, PVC and
Phthalate FREE material. Our slicer features rust-resistant wire cutters for
11 even slices, or 6 even wedges making it a snap to add eggs, mushrooms or
soft fruits to salads and meals. Easy to use, just choose whether you want
wedges or slices, then lift up the wire blade handle, place a soft boiled egg,
mushroom, peeled kiwi or strawberry in the appropriate holder, then push down
the blade handle, thats it. Your item has been either sliced into 11 pieces
or 6 wedges for you. Hand washing recommended for extending the life of the
product but it is top rack dishwasher safe. This slicer is an excellent
addition to your professional kitchen collection. Size: 8.3 x 3.2 x 1.8 inch.