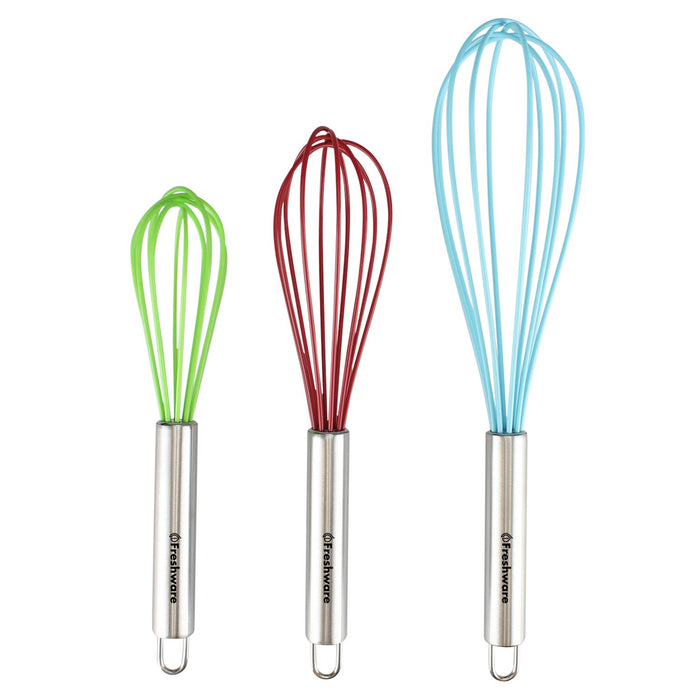 Freshware Colorful Silicone Whisks, Balloon Whisk Set, Wire Whisk, Egg Frothe.
Freshware silicone whisk is made of 100% US FDA and Europen LFGB food grade nonstick silicone covered wire, BPA-free, no phthalates; Designed for durability, quality you can count on for sure; Easy to use and clean up; Dishwasher safe.
Freshware balloon whisk is also a heat resistant non-stick silicone coated wire whisk, which makes this the best whisk for whisking sauces on the stove or in the oven without damaging your expensive pans; Also great as an egg whisk or a vinaigrette whisk.
Freshware polished stainless wires and narrow shape are perfect for whisking in a small bowl or container. It's super durable, stain and odor resistant. Simply won't discolor, warp, crack, melt or rust like any other whisks. so you'll enjoy it for years and decades to come
Freshware colorful silicone whisk makes cooking much easier and more enjoyable. And the whisk ends allow for easy hanging on any hook in your kitchen, allowing for easy storage. A great kitchen tool or Christmas gift/present for new homeowners ! The package come in 3 sizes: 12 inch, 10 inch and 9 inch
Absolutely RISK FREE purchase! We are so confident in the quality of our product that you'll love it. If for any reason you are unsatisfied, simply contact us to return the product for a FULL Refund or Replacement. Your purchase will be backed by a 100% FULL MONEY-BACK GUARANTEE!
Freshware Silicone Whisk with Stainless Steel Handles, Set of 3 - The whisk can beat eggs, stir batter, whip cream and stir sauces, an ergonomic design that makes use comfortable and easy. - The line will not mold, peel, crack, warp, absorb odors, or fade. - Two different sizes for all your cooking needs. - From beating a single egg to mixing a cake batter the sturdy and efficient classic whisk has multiple wires for adding volume and quickly smoothing lumps from mixtures. - The stainless steel handles (with hanging holes) are strong and comfortable in your hand, and they'll stand up to thick sauces and heavy ingredients. Thousands of happy customers enjoy our product because each package is inspected for quality and a product information card is inserted into each box. If You Are Not 100% Satisfied, Get Your Money Back! NOW is the time to act. Click on the yellow "Add to Cart" button in the top right hand corner of the page right now. Supplies are extremely limited so do not wait. limited so do not wait.