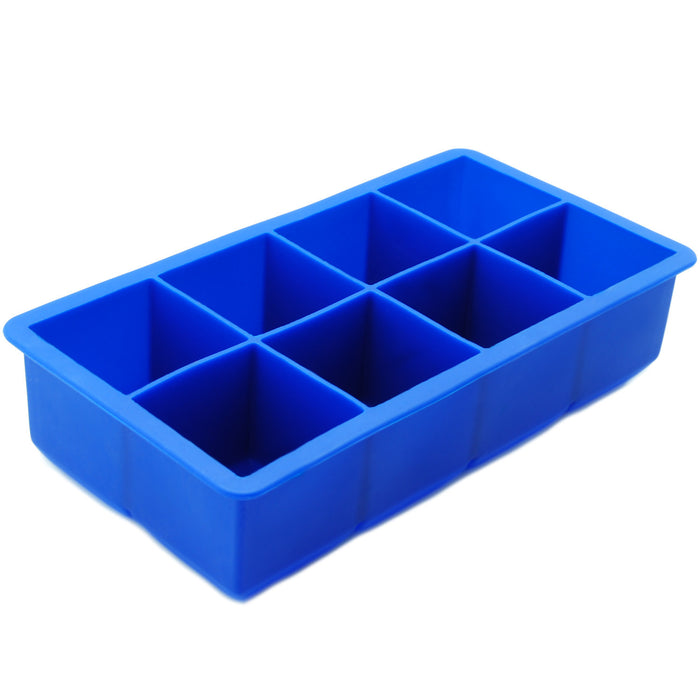 8-Cavity Jumbo 2-Inch Cube Silicone Ice Tray, Blue
Keep cocktails, sodas, lemonade and iced tea perfectly chilled by pouring them over extra-large ice cubes made with the Freshware FI-112BL 8-Cavity Jumbo 2-Inch Cube Silicone Ice Tray. It is constructed with 100% pure, premium quality food-grade silicone, which meets US FDA safety standards (BPA, PVC and Phthalate FREE).

The large surface area allows the ice to melt slower, letting your beverage to stay cooler longer without diluting the drink. Simply fill the molds with water or your favorite juice, fruits, herbs or citrus zest, freeze, and then pop out 8 fully-formed 2 inch jumbo ice cubes. Perfect for parties or events where you are going to serve cocktails, whiskey, tequila or vodka drinks. It is a must have for cocktail lovers, restaurants, bars, and home use.

Our sturdy non-slip ice tray design will sit securely in the freezer without spilling a drop. Trays are also stackable to save valuable space. Ice cubes can be easily removed with a little twist and push from the bottom.

Many customers have found creative ways to use Freshware silicone molds (depending upon the shape) to create delicious chocolates, candies, gummies, butters, caramels, ice cubes, frozen baby foods, gelatin, ice creams etc. Other customers use the molds in unique ways to create clays, resin casting, candles, soaps and more.
Our Premium Quality & Safety Standards:
Easy to use - just fill with water, soda, herbs, fruits or juice, home-made stocks, etc. and pop it into the freezer

Makes 8 Extra-Large 2-Inch square, slow meting ice cubes at once

Perfect to slowly chill cocktails, whiskey, tequila, vodka or other drinks with less dilution

100% Pure, Premium Quality Food-Grade Silicone

Meets US FDA Safety Standards. BPA, PVC and Phthalate FREE
Model Number: FI-112BL

Mold Size: 8.4 x 4.4 x 2 inch

Cavity Size: 2 x 2 x 2 inch

Volume: 8 x 3.5 oz, Total 28 oz