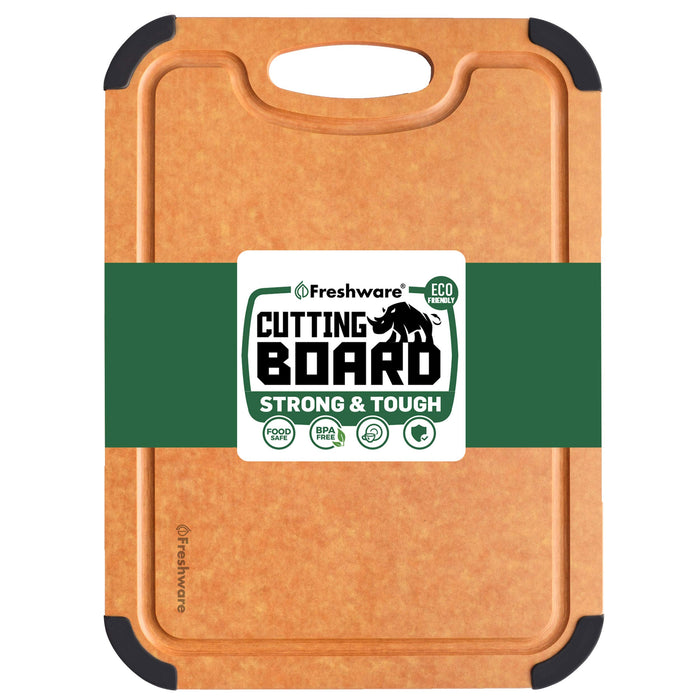 Cutting Board for Kitchen Dishwasher Safe, Wood Fiber Cutting Board, Eco-Friendly, Non-Slip, Juice Grooves, Non-Porous, BPA Free, Natural Slate
A CUT ABOVE - Small 11.7 x 8.5 inch wood fiber composite cutting board, wooden natural color, removable silicone corners, dual-sided cutting surface. If you are looking for a durable cutting board that is extremely safe to use, then we got you covered. BPA-free, LFGB approved, dishwasher safe, Freshware eco cutting boards provide a hypoallergenic food prep surface for every meal.
EASY TO USE DESIGN - The wood fiber cutting board is equipped with a juice groove to prevent liquids from spilling onto the counter. Ergonomic handle for convenient lift or storage. Non-slip silicone corners/feet grip countertop surface, prevent the board from shifting during use, you can be confident the chopping board will stay firmly in place, more spare time could be concentrated on the kitchen.
STYLISH SERVER - Freshware offer the small, medium and large size cutting board for choice. It can double as an attractive serving tray platter for elegantly displaying cheese, bread, fruit, desserts and more. Temperature resistant to 350 Degree F/175 Degree C. The rustic wooden look goes well with all types of home dcor, from modern to classic.
KNIFE FRIENDLY - Eco-friendly wood fiber surface is better for your knives and cutlery than plastic, glass, acacia, teak, and maple. Reduce accidents and knife slips, while preserving your valuable cutting tools razor-sharp blades. Commercial restaurant grade cutting board with industrial-quality strength, a perfect combination of size and weight for kitchen and makes a great gift for chef.
SATISFACTION GUARANTEE - If you're anything less than amazed by our Freshware wood fiber cutting board, you can return it for a full refund, no questions asked. To see how Freshware's cutting board can enhance your (or a loved one's) cutting adventure. Click "ADD TO CART" now.
Freshware Wood Cutting Boards
Every Non-Slip Cutting Board is made with naturally renewable or recycled materials in an environmentally responsible way, made from a wood fiber composite with silicone corners that grip the surface of your countertop. Wood Fiber Composite is sheets of resin-saturated fiber are compressed and baked to a solid sheet. The final product is exceptionally strong, yet maintains the warm, natural look and feel of wood.
BPA Free and Hypoallergenic
Made from 100% Food-Grade Wood Fiber material that is safe and durable, never break easily. Food-Grade cutting board will make meal prep healthier.
Non-Slip, Non-Porpus and Deep Juices Groove
With 4 non-slip removable silicone corners, you can use on any kitchen surfaces safely. The non-porpus surface so it wont crack, split, or stain making it the perfect material for cutting and serving. The juices groove prevents the juices from draining onto your countertop and keep clean and tidy.
Dishwasher Safe
Simply wash with light soap under running water or put it in the dishwasher. Super easy to clean, dry and store.
Packages
Material: 100% Food-Grade Wood Fiber
1 x Large 17.3 x 13 x 0.4 inch or 44 x 32.5 x 0.9 cm Cutting Board
About Us
Freshware is full of passion and craftsmanship that we have devoted ourselves to bringing you the finest cutting board to meet all your chopping needs at a value without compromising quality. Our products are well-designed, practical, casual tools that feel at home in any kitchen where friends and family gather to share and enjoy good food.