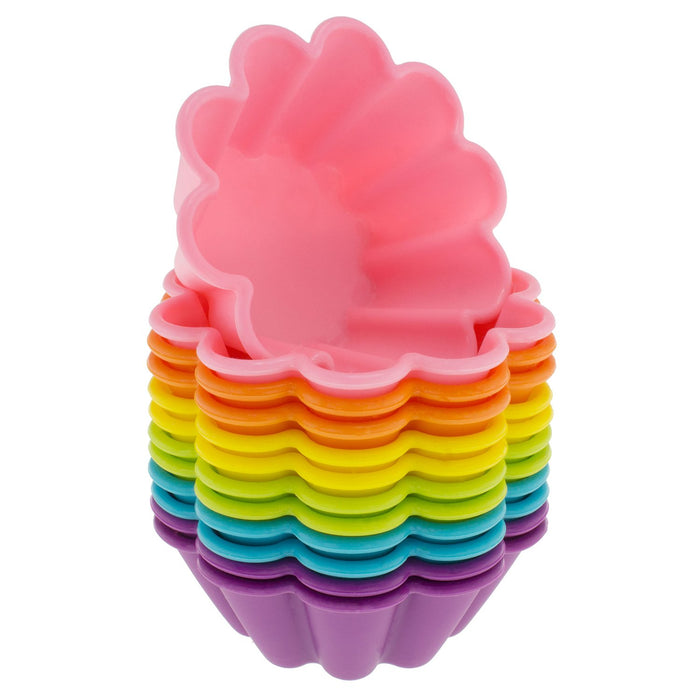 Freshware Silicone Baking Cups [12-Pack] Reusable Cupcake Liners Non-Stick Muffin Cups Cake Molds Cupcake Holder in 6 Rainbow Colors, Flower
PINCH TEST APPROVED Our 12 cup silicone muffin pan is made out of the highest quality 100% pure European LFGB grade silicone which is BPA free silicone and has no additives & no plastic fillers. Our silicone baking cups never turns white, please be noted that LFGB surpasses FDA (US Standard).
CLEAN UP IS A BREEZE If this is your first time using silicone Cupcake liners, you will never go back to paper ones. Our silicone muffin cups are super easy to clean. Just put the cups in the dishwasher or use warm water & soap and clean up is done. That's how easy it is!
MUFFINS POP RIGHT OUT Our silicone muffin cups are absolutely non-stick. So wether youre making muffins, cupcakes or egg muffins nothings sticks to the mold. Cost-saving alternative to disposable paper cups; works with any standard muffin pans.
SUPER EASY TO USE Just put your silicone muffin cups on a cookie sheet for stability when you put them in and out of the oven and youre good to go! Depending on your batter you can always spray a little olive oil on the moulds but it is not needed.
SATISFACTION GUARANTEED - No hassles and no back talk! We know we have a superior product and we think it's time you do too. For any reason you aren't satisfied all you have to do is let us know and we'll refund your money. We want you to be happy above all else and we will gladly go out of our way to make sure you are.
Freshware Reusable Silicone Baking Cups
A great alternative to disposable paper baking cups, this Freshware reusable silicone baking cups can be used again and again. The baking cups work with any standard muffin pan, and depending on the batter, they can also be used freestanding on a flat cookie sheet.
100% Pure Silicone - BPA Free, no Additives, no Fillers
While other brands use plastic fillers and toxic materials that leave behind a plastic taste and smell, our silicone muffin pans are 100% PURE SILICONE and BPA free, with no additives and no fillers!
We use only the Best, Non-toxic, European LFGB-grade silicone in our molds. Weve taken the time to source better quality silicone to ensure the quality surpasses FDA standards and brings you a truly remarkable product. Not only are the muffin pans made out of premium silicone, but they are also heat resistant up to 446F or 230C.
Versatile Use
The reusable baking cups offer exceptional versatility in the kitchen. Use them to make not only muffins and cupcakes, but also molded gelatins, cheesecakes, brownies, and other delicious desserts and treats. Beyond baking, the colorful cups can also be used to hold snacks, cookies, cakes or candy for a kids party. Separate foods in Bento Lunch Boxes! Great for ice cream and large ice cubes! Make handmade soap, candles and bath bombs!
Safe, Easy, and Clean Use!
On top of being made from the highest grade materials possible, our silicone muffin pans are also dishwasher, microwave, freezer & oven safe.
What You Get:
1x 12-Cup Silicone Baking Cups, Flower.
Cup Size: 3 inch top x 1.8 inch bottom diameter x 1.2 inch depth. Volume: 12 x 2.5 oz, Total 30 oz.
GET IT WITH CONFIDENCE: Freshware offers you their BEST FREE Replacement or Refund policy. Thats our promise!